We spend the hour on this week's show looking at some of the wider issues stemming from the bombing of the Boston Marathon.
Our first guest is Baher Azmy, the Legal Director of the Center for Constitutional Rights. We will talk with him about the issue of Miranda Rights and the fact that the suspect was not read those rights.
Our second guest is Beau Grosscup, Professor of Political Sciences at California State University. We will talk with him about terrorism – the use and misuse of the term, and what the long term consequences of violent responses to terrorism are.
More about this week's guests:
Baher Azmy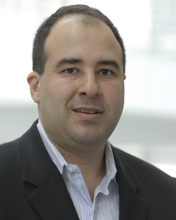 Baher Azmy is the Legal Director of the Center for Constitutional Rights and an esteemed lawyer, professor and scholar, who has actively pursued constitutional and human rights litigation challenging policies emerging from the so-called "war on terror," including policies related to indefinite executive detention, extraordinary rendition, and torture. Baher represented Murat Kurnaz, a German resident of Turkish descent imprisoned in Guantánamo Bay by the U.S. military as a so-called "enemy combatant," until his release in August 2006. He visited Guantánamo numerous times and participated extensively in varied briefing that has occurred in the courts, including in the Supreme Court in Boumediene v. Bush and in the consolidated Guantánamo habeas cases. Full Bio.
The Center for Constitutional Rights released a statement  about the bombing of the Boston Marathon over the weekend: "Our thoughts go out to the friends and families of victims of these horrific bombings. While it is difficult to turn to points of law in times of tragedy, those are, in fact, the times we most need to cling to the values, laws and rights that make us who we are as a nation. The Miranda warnings were put in place because police officers were beating and torturing 'confessions' out of people who hadn't even been formally accused of a crime. We cannot afford to repeat our mistakes. If officials require suspects to incriminate themselves, they are making fair trials and due process merely an option and not a requirement. To venture down that road again will make law enforcement accountable to no one. Like Obama's expanded killing program and his perpetuation of indefinite detention without trial at Guantanamo, this is yet another erosion of the Constitution to lay directly at the President's feet. Obama's Justice Department unilaterally expanded the 'public safety exception' to Miranda in 2010 beyond anything the Supreme Court ever authorized. Each time the administration uses this exception, it stretches wider and longer. However horrific the crime, continuing to erode constitutional rights invites continued abuse by law enforcement, and walks us down a dangerous path that becomes nearly impossible to reverse."
For background, see: "What rights should Dzhokhar Tsarnaev get and why does it matter?"
———————————————————————————–
Beau Grosscup
Beau Grosscup is a Professor of Political Sciences at California State University, Chico. The University, commonly called "Chico State." Grosscup has taught at Chico State since 1988. His teaching and research interests are in the field of international relations. He holds a PhD from the University of Massachusetts. He is also author of several books on terrorism including "Strategic Terror: The Politics and Ethics of Aerial Bombardment."
Quote: "Initially, President Obama called the Boston bombing a 'tragedy,' a label for which he was roundly criticized by the political right. A day later he declared it 'an act of terrorism.' This may seem a matter of semantics, but there are real power politics at work. Consider the following facts in the Boston bombing. (1.) The FBI says it doesn't know who was responsible or how many were involved. (2.) The FBI defines 'terrorism' as 'the unlawful use of force or violence against persons or property to intimidate or coerce a government, the civilian population, or any segment thereof in furtherance of political or social objectives,' but then adds the operational criteria that for an act to be called terrorism a conspiracy of two or more must be established. In the past, this definitional requirement has allowed the FBI to say that domestic violence directed at the family planning community, black churches, LGBT community, environmentalists is not terrorism because they cannot find a conspiracy of two or more people. Yet, to the FBI, the Unabomber, a lone individual, was a terrorist. In short, the Boston bombing is only the latest example of the consistent inconsistent application of the terrorism label for political purposes. Terrorism is such a politically emotive concept that politicians around the world use it or not when they consider it politically convenient to do so. In the current contrived ideological context in which 'we don't do terrorism, others (they) do,' President Obama is among them."
On Chechnya Grosscup recalls "the Bush/Putin political deal in the wake of 9/11 in which, in exchange for Russian support of the U.S. 'War on Terror,' the U.S. would ignore Putin's state terrorism that was ravaging Chechnya, specifically its capital city Grosny. The international financial system's (IMF, World Bank, BIS [Bank for International Settlements]) push for privatized economies in the former Soviet Republics, backed by U.S. and European capital has wreaked economic and social havoc on the vast majority of Central Asian people while enriching the politically connected few."