Show Details for the week of July 22nd, 2013
Posted by themonitor on July 22, 2013
On this week's show:
Chevron found guilty of dumping toxic materials in the Amazon, gets access to activists' private internet data – an interview with Simon Billenness
America's Deadliest Export – an interview with William Blum
More about our guests:
Simon Billenness
Simon Billenness is the President of CSR Strategy Group, Co-Chair of the Business and Human Rights Group with Amnesty International, USA and on the Committee on Socially Responsible Investment with Unitarian Universalist Association. He consults to non-profits, corporations, trade unions, and social investment firms on strategy addressing issues of corporate social responsibility (CSR) and socially responsible investment.
Topic: In 'Chilling' Ruling, Chevron Granted Access to Activists' Private Internet Data – "Sweeping" subpoena violates rights of those who spoke out against oil giant's devastating actions in Ecuador
- Lauren McCauley, staff writer
Following their guilty sentence for the dumping of 18.5bn gallons of toxic waste in the Ecuadorian Amazon, Chevron is amassing the personal information of the environmentalists and attorneys who fought against them in an effort to prove 'conspiracy.' (Photo: Rainforest Action Network/ cc/ Flickr)The US government is not the only entity who, with judicial approval, is amassing massive amounts of personal information against their so-called enemies.
A federal judge has ruled to allow Chevron, through a subpoena to Microsoft, to collect the IP usage records and identity information for email accounts owned by over 100 environmental activists, journalists and attorneys.
The oil giant is demanding the records in an attempt to cull together a lawsuit which alleges that the company was the victim of a conspiracy in the $18.2 billion judgment against it for dumping 18.5 billion gallons of oil waste in the Ecuadorean Amazon, causing untold damage to the rainforest.
The "sweeping" subpoena was one of three issued to Google, Yahoo! and Microsoft.
"Environmental advocates have the right to speak anonymously and travel without their every move and association being exposed to Chevron," said Marcia Hofmann, Senior Staff Attorney with the Electronic Frontier Foundation, who—along with environmental rights group EarthRights International (ERI)—had filed a motion last fall to "quash" the subpoenas.
"These sweeping subpoenas create a chilling effect among those who have spoken out against the oil giant's activities in Ecuador," she added at the time.
According to ERI, the subpoena demands the personal information about each account holder as well as the IP addresses associated with every login to each account over a nine-year period. "This could allow Chevron to determine the countries, states, cities or even buildings where the account-holders were checking their email," they write, "so as to 'infer the movements of the users over the relevant period and might permit Chevron to makes inferences about some of the user's professional and personal relationships.'"
In their statement about the ruling, ERI notes that the argument given by presiding US District Court Judge Lewis Kaplan—who was previously accused of prejudice against the Ecuadorians and their lawyers—was as "breathtaking as the subpoena itself." They continue:
According to Judge Kaplan, none of the account holders could benefit from First Amendment protections since the account holders had "not shown that they were U.S. citizens."

Now, let's break this down. The account-holders in this case were proceeding anonymously, which the First Amendment permits. Because of this, Judge Kaplan was provided with no information about the account holders' residency or places of birth. It is somewhat amazing then, that Judge Kaplan assumed that the account holders were not US citizens. As far as I know, a judge has never before made this assumption when presented with a First Amendment claim. We have to ask then: on what basis did Judge Kaplan reach out and make this assumption?
More Links:
Chevron Aims at an Activist Shareholder
We got a copy of the subpoena Chevron sent a rebellious shareholder
—————————————————————————————
William Blum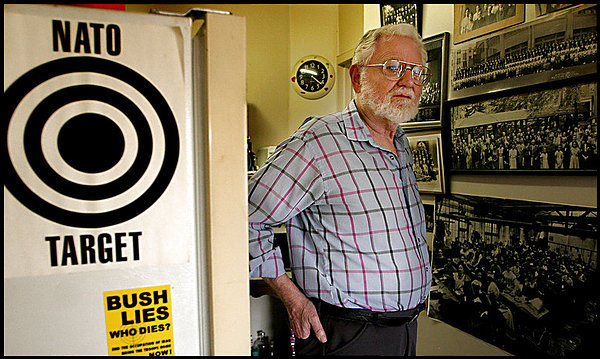 William Blum left the State Department in 1967, abandoning his aspiration of becoming a Foreign Service Officer, because of his opposition to what the United States was doing in Vietnam.
He then became one of the founders and editors of the Washington Free Press, the first "alternative" newspaper in the capital.
(Photo by Lois Raimondo, The Washington Post)
Mr. Blum has been a freelance journalist in the United States, Europe and South America.  His stay in Chile in 1972-3, writing about the Allende government's "socialist experiment" and its tragic overthrow in a CIA-designed coup, instilled in him a personal involvement and an even more heightened interest in what his government was doing in various parts of the world.
In the mid-1970's, he worked in London with former CIA officer Philip Agee and his associates on their project of exposing CIA personnel and their misdeeds.
His book on U.S. foreign policy, Killing Hope: U.S. Military and CIA Interventions Since World War II, first published in 1995 and updated since, has received international acclaim.  Noam Chomsky called it "far and away the best book on the topic."
In 1999, he was one of the recipients of Project Censored's awards for "exemplary journalism" for writing one of the top ten censored stories of 1998, an article on how, in the 1980s, the United States gave Iraq the material to develop a chemical and biological warfare capability.
Blum is also the author of America's Deadliest Export: Democracy – The Truth About U.S. Foreign Policy and Everything Else (2013), Rogue State: A Guide to the World's Only Superpower (updated edition 2005), West-Bloc Dissident: A Cold War Memoir (2002), and Freeing the World to Death: Essays on the American Empire (2004).  His books have been translated into more than 20 languages.
During 2002-2003, Blum was a regular columnist for the magazine The Ecologist, which is published in London and distributed globally.
In January 2006, a tape from Osama bin Laden stated that "it would be useful" for Americans to read Rogue State, apparently to gain a better understanding of their enemy.
Website: williamblum.org
2 Responses to "Show Details for the week of July 22nd, 2013"
July 22, 2013 at 7:37 pm

Thank you for interest in this important issue and giving me an opportunity to tell your listeners more about Chevron's scorched-earth legal tactics against activists.

July 22, 2013 at 10:14 pm

Thanks for coming on. I really think we can vote as consumers and people need to know what is going on.